Abacus Capital ("Abacus") is pleased to announce the opportunistic acquisition of 1000 Pressley Road, a 61,000 square foot shallow-bay last mile industrial asset strategically located in one of the most fundamentally strong urban industrial corridors in Charlotte, NC.
Situated on approximately 4.00 acres that are nearly equidistant between Charlotte's CBD and its international airport in the Airport submarket, 1000 Pressley has been historically occupied by a collection of local distribution and light industrial users at well-below market rates.
Abacus acquired the 80% leased asset in an off-market transaction for $4.8M or $78/SF, well below replacement cost.
Located at the intersection of Pressley and Barringer Roads, 1000 Pressley is approximately 1/3 of a mile from an I-77 interchange, 1/2 of a mile from the city's largest and oldest brewery (Olde Mecklenburg Brewery) and is under a 10 minute drive from each the airport, the CBD and the majority of Charlotte's highest-demographic rooftops.
"Abacus is pleased to kick off its 'Last Mile/Last Touch' infill industrial program with such an irreplaceable asset in such a high-barrier location as 1000 Pressley," said Wes McAdams, Managing Partner of Abacus Capital. "With the continued evolution and urbanization of infill Charlotte, we believe this is a product type that should see above-trend rent growth and occupancy performance for the foreseeable future. We look forward to aggregating a meaningful portfolio of similarly well located and functional shallow-bay industrial assets on behalf of our clients in the months and years ahead."
As part of its business plan, Abacus plans to redevelop the project's exterior, deliver new office suites and uptier the asset into the institutional marketplace by adding a state-of-the-art fire suppression system.
"We are excited to re-introduce this repositioned asset to the tenant marketplace later this year," said Brick Bryant, a partner at Abacus Capital. "While the majority of the historically competitive assets in neighboring South End and LoSo have been repurposed into breweries, creative office or scraped altogether for new development over the past cycle, our view is that well located and highly functional legacy assets like 1000 Pressley will only become increasingly more in-demand over time."
Launched in 2018, Abacus Capital is a multi-strategy product type agnostic real estate investor that seeks out special situations or other tactical opportunities in which to deploy its capital, institutional experience, relationships and hands-on, solution-oriented approach to creating or unlocking value and driving investment outperformance on behalf of its partners and clients.
Avison Young will be leasing the project on behalf of Abacus and its clients while Foundry Commercial will be property managing the asset going forward. WDM Design is the architect of record and Piedmont Contracting will be leading the execution the asset enhancement program.
ABOUT ABACUS CAPITAL
Abacus Capital is a tactical real estate opportunity investor focused on the acquisition and development of differentiated commercial real estate in growth markets across the southeastern United States. Our mission is to identify investment opportunities that we believe offer our investors the most compelling risk-adjusted returns in a dynamic capital markets environment. The principals of Abacus Capital have nearly 25 years of real estate investing experience and have acquired or developed nearly 16.5M square feet of commercial real estate with a total capitalization in excess of $3.0B.
BEFORE: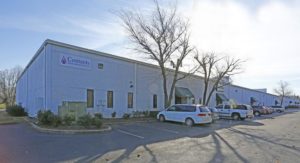 AFTER: