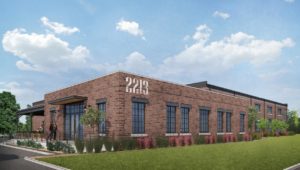 Abacus Capital ("Abacus"), with its partners Big Cypress Capital ("Big Cypress") and FCP, has closed on the acquisition of two parcels on 4.33 acres at 2213 and 2218 Toomey Avenue in Charlotte, NC. The parcels are currently occupied by one-story warehouse buildings totaling 63,034 square feet that will be repositioned as a creative commercial district in the rapidly growing South End submarket.
"Abacus Capital is proud to be partnering with FCP and Big Cypress Capital on this transformative redevelopment of an emerging and heretofore underappreciated corridor in one of the most dynamic neighborhoods in the entire Southeastern US," said Wes McAdams, Managing Partner of Abacus Capital. "Our value-oriented business plan was conceived in a defensive investing environment and we are confident this project will be well positioned to outperform as economic conditions continue to improve."
"Our South End adaptive reuse redevelopment brings FCP's extensive experience with this creative office format to an organically expanding and promising area of South End," said FCP Senior Associate, Kevin North. North continued, "We are excited to be working alongside Abacus and Big Cypress to give this property a new and exciting purpose and look forward to sharing our vision in more detail as design continues."
FCP has completed highly successful adaptive reuse redevelopments throughout the country including Sylvan Supply in Nashville, Stockyards in Atlanta, West Village and Venable Center in Durham and the Cigar Factory in Charleston (SC) with new projects underway at Westside Paper in Atlanta and Chadbourn Mill in Charlotte.
FCP Principal, Erik Weinberg, noted that "The South End submarket of Charlotte is regarded as one of the most promising mixed-use submarkets in the eastern U.S. due to its continued job growth and corporate relocations — attributable to Charlotte's business-friendly environment, financial services and tech employment base, international airport, quality of life and cost of living. FCP strongly believes that its adaptive reuse strategy remains well-suited to providing a differentiated offering to companies seeking real estate as a means to grow corporate culture, attract and retain the best talent and distribute its workforce in response to the global pandemic."
"Over the past few years South End has graduated from a 'submarket to watch' to arguably one of the most established and sought after districts in not only metro Charlotte but the entire Sun Belt itself," said John Ball, a Partner at Foundry Commercial. "This development team has a fantastic track record of delivering authentic, dynamic and highly responsive projects and we could not be more excited to be bringing these buildings to the market for them. We anticipate that the proximity to South End's core residential and retail corridors and the easy access via I-77 and West Tremont should help these assets appeal to a broad swath of the prospective tenant universe."
Foundry Commercial's John Ball and Claiborne Dandridge have been retained to lease the project while Foundry will also manage the project. JLL arranged the financing and First Carolina Bank is the lender. Redline Design and the McAdams Company will be the design team of record on the project.
ABOUT ABACUS CAPITAL
Abacus Capital is a multi-strategy tactical real estate opportunity investor focused on the acquisition and development of differentiated commercial real estate in growth markets across the southeastern United States. Recognized as one of the fastest growing real estate investment managers in the Charlotte market, Abacus' mission is to identify investment opportunities that we believe offer our investors the most compelling risk-adjusted returns in dynamic capital markets environments. The principals of Abacus Capital have over 25 years of real estate investing experience and have acquired or developed nearly 16.5M square feet of commercial real estate with a total capitalization in excess of $3.1B.
ABOUT BIG CYPRESS CAPITAL'S HEADWATERS STRATEGIC OPERATOR PLATFORM
Big Cypress Capital's Headwaters Strategic Operator Platform aims to develop the next generation of real estate managers and deploy investment capital through strategic joint ventures. Leaders from Big Cypress work closely with strategic operators, acting as mentors and advisors to ensure the incorporation of best‐in‐class practices.
ABOUT FCP FCP® is a privately held real estate investment company that has invested in or financed more than $6 billion in assets since its founding in 1999. FCP invests directly and with operating partners in commercial and residential assets. The firm makes equity and mezzanine investments in income-producing and development properties. Based in Chevy Chase, MD, FCP invests both its commingled, discretionary funds and separate accounts targeted at major real estate markets in the United States. For further information on FCP, please visit www.fcpdc.com.