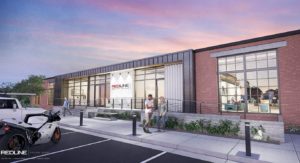 Abacus Capital ("Abacus"), along with its partners Big Cypress Capital ("Big Cypress") and Stockbridge Capital Group ("Stockbridge"), are pleased to announce the first tenant at the Switch Yard, a 90,000+ SF trophy-quality Class AA creative office redevelopment project that will raise the bar for adaptive reuse office development in the Charlotte market.
Redline Design Group ("Redline"), one of the leading architectural design firms in the Charlotte region, has agreed to lease approximately 40% of the 925 Tuckaseegee building at the Switch Yard. Redline will be relocating from elsewhere in FreeMoreWest to the Freight District, one of Charlotte's fastest growing infill commercial neighborhoods.
"We are excited to welcome Redline Design Group as our lead tenant at the Switch Yard," said Wes McAdams, Managing Partner of Abacus Capital. "To have a best-of-breed, established creative class tenant of Redline's caliber agree to prelease a significant portion of the Switch Yard serves as validation of the value proposition inherent to our project as well as the increasing desirability of the Freight District to corporate space users as this emerging neighborhood continues to mature."
The Switch Yard will be the Freight District's first structure-parked office asset and will be competitively differentiated by its cutting edge architectural design, a captive above-market parking ratio, the ability to accommodate tenants from 6,000-65,000 SF as well as its elevated outdoor tenant amenity spaces that have been designed to maximize tenants' sight lines to the city's skyline.
"It became obvious from the start of our marketing process that there is a serious lack of high-quality creative product like the Switch Yard remaining in the Charlotte market," said Joe Franco with CBRE. "We have been blown away by the overwhelming demand we have seen this early in the process for this unique asset and we look forward to announcing other groups of similar pedigree as Redline Design in the near future."
"Redline Design Group is ecstatic to call Switch Yard our future home and we feel fortunate to be part of the landmark project that is catalyzing the revitalization of the Tuckaseegee urban corridor," said Tom Duzan, a Principal at Redline. "Abacus Capital has been a spectacular partner throughout this process and we're extremely excited for our future in the burgeoning Freight District neighborhood. We look forward to becoming an integral part of the community and serving its needs. Also, to be so close to our recently completed Wray Ward headquarters project nearby on Thrift Road is an added bonus. We appreciate the trust Abacus placed in Redline to lead the Switch Yard design team and to play such an important role this special project."
CBRE's office leasing team led by Joe Franco and Kris Westmoreland represented Abacus and its partners on the transaction. Chris Schaaf and Chase Monroe with JLL represented the tenant in the transaction.
ABOUT ABACUS CAPITAL
Abacus Capital is a multi-strategy tactical real estate opportunity investor focused on the acquisition and development of differentiated commercial real estate in growth markets across the southeastern United States. Recognized as one of the fastest growing real estate investment managers in the Charlotte market, Abacus' mission is to identify investment opportunities that we believe offer our investors the most compelling risk-adjusted returns in dynamic capital markets environments. The principals of Abacus Capital have over 25 years of real estate investing experience and have acquired or developed nearly 16.5M square feet of commercial real estate with a total capitalization in excess of $3.1B.
ABOUT BIG CYPRESS CAPITAL'S HEADWATERS STRATEGIC OPERATOR PLATFORM
Big Cypress Capital's Headwaters Strategic Operator Platform aims to develop the next generation of real estate managers and deploy investment capital through strategic joint ventures. Leaders from Big Cypress work closely with strategic operators, acting as mentors and advisors to ensure the incorporation of best‐in‐class practices.
ABOUT STOCKBRIDGE CAPITAL GROUP
Stockbridge is a private equity real estate investment management firm led by veteran industry professionals. The firm's portfolio comprises assets across the investment risk spectrum, including core, value-added and opportunistic strategies. Stockbridge and its affiliates have approximately $16.7 billion of assets under management (as of September 30, 2020) spanning all major real estate property types, and certain specialty property types, throughout the United States.
ABOUT REDLINE DESIGN GROUP
Redline Design Group is a multi-faceted architectural firm of 40 very talented and hard-working staff based in Charlotte, NC. Going on 18 years of success, built one relationship and one project at a time, they are now recognized as one of Charlotte's top design firms. Focusing on the areas of adaptive reuse, corporate interiors and automotive design, Redline has implemented a steady plan of focus on relationship, quality, responsiveness and creative problem-solving.
ADDITIONAL PROJECT RENDERINGS:
925 TUCKASEEGEE: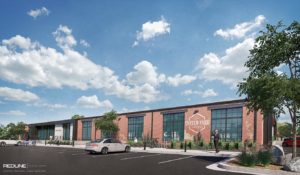 1001 TUCKASEEGEE: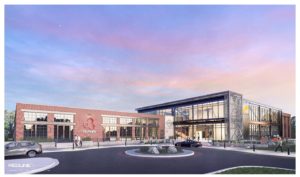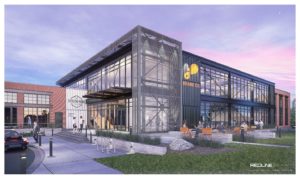 OUTDOOR TENANT AMENITY SPACES: