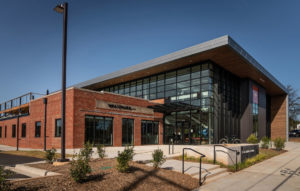 Abacus Capital ("Abacus"), along with its partners Big Cypress Capital ("Big Cypress") and Stockbridge Capital Group ("Stockbridge"), are pleased to announce the off-market acquisition of 2317 Thrift Road, a fully leased trophy-quality adaptive reuse creative office asset totaling 38,300 SF in west Charlotte's Freight District.
Abacus and its partners agreed to acquire the asset through a forward purchase structure in March 2020 for $17.3M, however the transaction did not close until final delivery and lease commencement in mid-December.
2317 Thrift Road serves as the global headquarters for Wray Ward, Charlotte's largest full-service marketing firm. With a track record spanning over 40 years, Wray Ward is regarded as the region's leading creative agency and its highly curated headquarters building is reflective of its focus around authenticity, inspiration and innovation.
With features such as polished concrete floors, original rough-hewn brick walls, extensive warehouse-style interior glass walls, generous skylights throughout, a floating staircase, rooftop observatory with sweeping skyline views, 13 conference rooms and a stadium-seated town hall-style collaboration area in its 2-story glass jewel-box lobby, Wray Ward's headquarters sets a new standard for creative office environments in the Charlotte market.
"Wray Ward is one of Charlotte's blue-chip creative class tenants and we are thrilled to be adding their trophy-quality headquarters asset to our growing creative office portfolio," said Wes McAdams, Managing Partner of Abacus Capital. "We anticipate the inclusion of this showcase asset will help catalyze the ongoing marketing efforts of our Switch Yard project next door."
"Abacus employed a forward purchase strategy in this transaction to enable our venture to incorporate this asset into our Freight District portfolio at what we believe to be an attractive stabilized basis and going in yield," McAdams said. "Upon delivery of our adjacent Switch Yard project, Abacus and its partners will control a trophy-quality creative office portfolio of institutional quality and scale that should have broad capital markets appeal."
"Big Cypress Capital is pleased to expand its programmatic relationship with Abacus and Stockbridge as the team expands its existing Charlotte portfolio's holdings," said Max Mazzone, CEO of Big Cypress Capital.
Given its focus on the home and building categories, Wray Ward used products from their clients in their new office including flooring and wall tile from Floor & Decor; window treatments from Hunter Douglas, faucets from Moen; paint from Sherwin Williams; glass wall systems from CR Laurence, skylights from VELUX, and air purification from Global Plasma Solutions.
Wray Ward's headquarters was developed by LPA Urban and both core/shell and interiors were designed by Redline Design Group. Lat Purser & Associates will manage the asset for the new owners.
ABOUT SWITCH YARD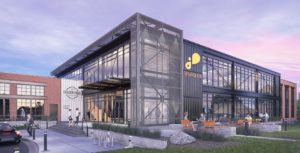 Switch Yard is a 98,000 SF adaptive reuse creative office development by Abacus Capital and its partners Big Cypress Capital and Stockbridge Capital Group. Located in west Charlotte's emerging Freight District commercial neighborhood, Switch Yard will be the area's first trophy-quality structure parked office asset catered towards the market's most discerning creative office tenants. Anticipated to deliver in 2021 and ideally positioned at the topographical apex of the Freight District, Switch Yard will offer tenants unrivaled views of downtown Charlotte's iconic skyline. CBRE's Kris Westmoreland (Kris.Westmoreland@cbre.com) and Joe Franco (Joe.Franco@cbre.com) lease Switch Yard on behalf of the ownership group.
ABOUT ABACUS CAPITAL
Abacus Capital is a multi-strategy tactical real estate opportunity investor focused on the acquisition and development of differentiated commercial real estate in growth markets across the southeastern United States. Recognized as one of the fastest growing real estate investment managers in the Charlotte market, Abacus' mission is to identify investment opportunities that we believe offer our investors the most compelling risk-adjusted returns in dynamic capital markets environments. The principals of Abacus Capital have over 25 years of real estate investing experience and have acquired or developed nearly 16.5M square feet of commercial real estate with a total capitalization in excess of $3.1B.
ABOUT BIG CYPRESS CAPITAL'S HEADWATERS STRATEGIC OPERATOR PLATFORM
Big Cypress Capital's Headwaters Strategic Operator Platform aims to develop the next generation of real estate managers and deploy investment capital through strategic joint ventures. Leaders from Big Cypress work closely with strategic operators, acting as mentors and advisors to ensure the incorporation of best‐in‐class practices.
ABOUT STOCKBRIDGE CAPITAL GROUP
Stockbridge is a private equity real estate investment management firm led by veteran industry professionals. The firm's portfolio comprises assets across the investment risk spectrum, including core, value-added and opportunistic strategies. Stockbridge and its affiliates have approximately $16.7 billion of assets under management (as of September 30, 2020) spanning all major real estate property types, and certain specialty property types, throughout the United States.
ABOUT WRAY WARD
Wray Ward is the home of passionately creative thinkers. The marketing communications firm has experience in a variety of categories with a specialty in constructing inspired marketing solutions that position, grow and optimize brands in the home and building categories. Our high-performance teams collaborate closely to help solve complex challenges while delivering meaningful results to our regional, national and international clients. That list includes AdvanTech™ Subfloor Assembly, American Woodmark cabinetry, Blum kitchen hardware, Cooper Lighting Solutions, Crescent Communities, Dacor appliances, Floor & Decor, LEVOLOR®, Moen®, Sherwin-Williams, TOTO, VELUX® and ZIP System® building enclosure products. Wray Ward is based in Charlotte, North Carolina. wrayward.com | @wrayward